Alpha 1 is an autonomous modular aerial platform that allows you to capture data of very large areas from a multitude of sensors.
Alpha1 is the most advanced fixed wing drone on the market today, it can be used in many industries like construction, surveying, conservation, search and rescue, agriculture and mining.
It is powered by Ardupilot, the worlds leading and most advanced open source autopilot software. This allows Alpha1 to have advanced features like terrain following, ADSB Air traffic avoidance, Reverse Thrust landing, highly accurate RTK/PPK image geotagging and RTK Navigation. Its operation is completely autonomous from takeoff to landing, all you have to do is upload the flight plan and hand launch Alpha1, then it will execute the flight, and capture the data completely on its own and once its done it will come back and land at the specified landing point.
The safety features and failsafes are among the most advanced in the UAV industry. Alpha1 can detect a low battery and return home to land before the battery runs out. You can set multiple landing zones in case the mission is on a very large area, and Alpha1 will find the closest landing point to go to. With the ADSB option, Alpha1 knows if there is other aircraft near its flight path, and can actively avoid the flight paths of other aircraft if necessary. It can also optionally transmit its own location to other aircraft in the area, making it ready for future regulations. If communication is lost with the radio transmitter or ground station, different behaviors can be programmed, like continue with the current mission, or return home immediately.
The new ground station software powered by Swift GCS, has checklists to help you remember important points to check and to help you comply with local regulations. The easy flight planning allows you to easily mark the area of interest and it automatically calculates the perfect flight plan based on the sensor payload you are flying, and the resolution you want to capture. Then during the flight you can monitor the state of the aircraft and all of the important data like battery levels, current altitude, attitude and speed.
With the high precision RTK system you can reduce the need for ground control points and obtain highly accurate high resolution images. The easy and streamlined PPK post process lets you easily geotag your images using data from the aircraft GPS and from ground control stations to increase the accuracy of the geotags to cm level.
Alpha1 makes it easy to survey and map large areas, generate accurate Digital Terrain and Surface Models, Point Clouds, and Ortho-Mosaics that are compatible with industry standard software like Autodesktm AutoCAD or ESRI's ArcGIS, so that you can easily integrate them into your workflow
–                                                                           Using Alpha1 capture multispectral imagery and use it to create Vegetations Indices like NDVI, and SAVI, then analyze the data to determine plant health, crop yields, plant growth, spotlight areas of interest, or detect certain insects, weeds or deseases.
–                                                                                                                                                   Alpha1 allows you to create 3D models of your quarry or mine and use these to measure aggregate stock pile volumes, calculate material extraction volumes in record times and without having to shutdown the operation.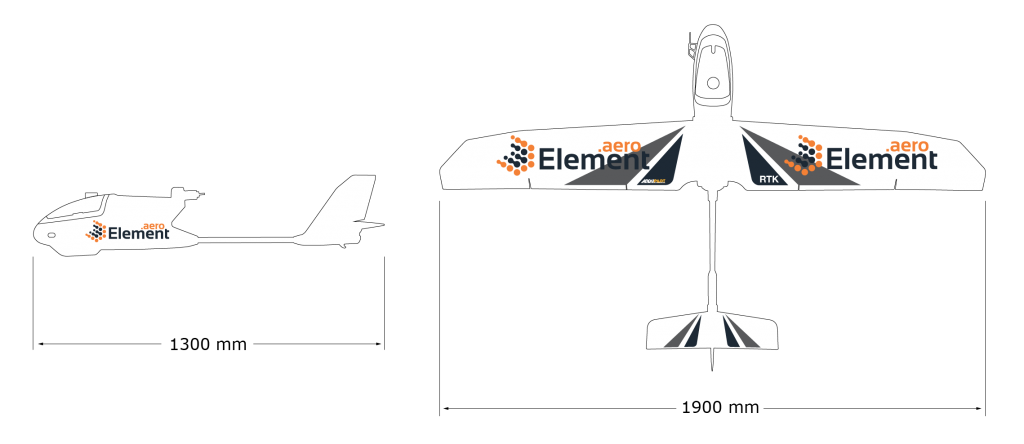 | Airframe | |
| --- | --- |
| Length | 1300 mm |
| Wingspan | 1900 mm |
| Weight | 2.8 kg |
| Material | High Density EPO, Carbon Fiber |
| Propulsion System | High efficiency electric motor |
| Performance | |
| --- | --- |
| Takeoff | Hand launch |
| Landing | Autonomous Reverse Thrust Landing |
| Cruise Speed | 17 m/s (61.2 km/h) |
| Flight Time | 100 min |
| Wind Limit | 10 m/s (36 km/h) |
| Nominal Ground Coverage | 2.5 km2 (250 hectares) @ 2.5 cm/px |
Payloads
RGB
20 MP APS-C Sony RC10 (20mp), 24 MP APC-C Sony A6000
Example Ground Sampling Distance (GSD)
1.91 cm/px – 20 MP @ 90 m AGL (300 ft)

1.76 cm/px – 24 MP @ 90 m AGL (300 ft)

2.54 cm/px – 20 MP @ 120 m AGL (400 ft)

2.34 cm/px – 24 MP @ 120 m AGL (400 ft)

Multispectral
Parrot Sequoia 4 spectral bands (Single band – 1.2 MP – Global Shutter) + RGB (16 MP)
Example Ground Sampling Distance (GSD)
8.48 cm/px – 1.4 MP Multispectral @ 90 m AGL (300 ft)

2.47 cm/px – 16 MP RGB @ 90 m AGL (300 ft)

11.31 cm/px – 1.4 MP Multispectral @ 120 m AGL (400 ft)

3.29 cm/px – 16 MP RGB @ 120 m AGL (400 ft)

Thermal
FLIR Vue Pro R – Info coming soon
GPS Options
Here
Constellation: GPS, GLONASS, BeiDou, QZSS

Modes: D-GPS, SBAS

Frequency: L1

Accuracy: 2.5 m (XYZ RMSE)1

Here+
Constellation: GPS, GLONASS, BeiDou, QZSS

Modes: RTK (PPK under development)

Frequency: L1

Accuracy: 20 cm (XYZ RMSE)1

Septentrio L1/L2
Constellation: GPS, GLONASS, SBAS, QZSS

Modes: RTK / PPK

Frequency: L1/L2

Accuracy: 3.6 cm (XYZ RMSE using PPK)1
| Transport Case | |
| --- | --- |
| Dimensions | 33cm x 153cm x 40cm (13 in x 60 in x 16 in) |
| Weight | 23 kg (50 lb) |
Accuracy without the use of ground control points. By using ground control points the accuracy can be greatly enhanced.